Who said exercise has to be like work?

This is the workout for people who want to have fun! Paula Abdul brings you the best of her own unique style in this dance-packed cardio workout, followed by lower body toning and a dancer's stretch. Count on it, you'll break a sweat, AND, you'll get in shape.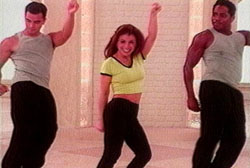 The cardio segment is taught dance-class style, a segment at a time, and then you'll put it all together at the end. Paula teaches each routine slowly, then speeds it up to tempo.

Paula's style of dance – classy yet funky and "edgy" choreography – looks challenging, yet the basic steps are simple. She makes the transitions between steps so smooth, you'll be into the next move without even knowing how you got there. Plus, if you're a "footwatcher," you'll have the advantage of watching the steps in reverse, with Paula facing the same direction as your learn.

In the lower body toning segment, be ready for some classic dance-inspired exercises to tone and define your thighs, buttocks and calves. These exercises are moves that dancers use as part of their core training.