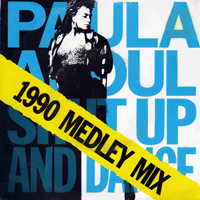 In May, 1990 Paula released "Shut Up And Dance- The Mixes." It contains dance remixes of the six hit singles from Forever Your Girl, one remixed album track and one medley track.

The medley track, titled "1990 Medley Mix" - was remixed by Chris Cox for Hot Tracks remix service and blends "Straight Up" / "Knocked Out" / "Opposites Attract" / "Forever Your Girl" / "State of Attraction" / "The Way That You Love Me" / "Cold Hearted" into one mix.

The "Shut Up And Dance" album was released to excite fans until Paula had completed the recording of her second full length album, which would be "Spellbound."

The remix album was another huge success for Abdul, peaking at #7 on the Billboard 200 and going Platinum (for over one million units shipped in the U.S.) and 5+ million worldwide by July 1990 becoming one of the most successful remix albums to date.

Following Abdul's continued UK singles success throughout 1990, Shut Up and Dance was re-released there late in the same year, featuring an additional four tracks.

Paula liked the phrase "Shut Up and Dance" so much she separately asked songwriters/producers Elliot Wolff, Oliver Leiber and The Family Stand to each come up with a song titled "Shut Up and Dance." All three complied with Paula's request and crafted their own version of a song titled "Shut Up and Dance" though none would end up being recorded or released.

"Spellbound" was Paula's next album.